Alanis Morissete
Alanis lembrou-me aquele poema entrando serena e segura em palco com mechas de cabelos louros a esvoaçar ao vento, um sorriso enorme e …..uns quilitos a mais ….. Parecendo mais serena não deixou de dar vislumbres do seu lado mais roqueiro, em permanente movimento pelo palco, abanando o seu cabelo, tocando a sua guitarra, a sua harmónica.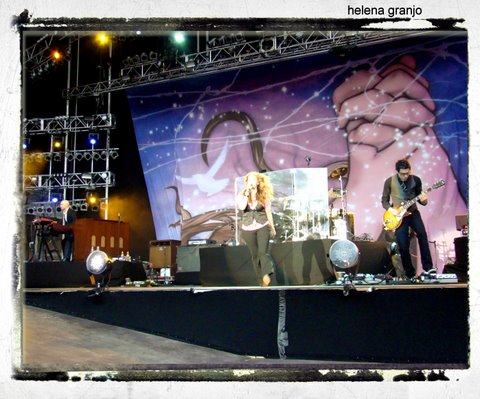 O alinhamento contou com os êxitos de "Jagged Little Pill" (comme il faut) e alguns temas do seu recente trabalho "Flavours of Entanglement". A reacção do público foi muito positiva, entoando em coro os êxitos desta segunda "diva", em si tão diferente da que tinha pisado o mesmo palco no dia anterior.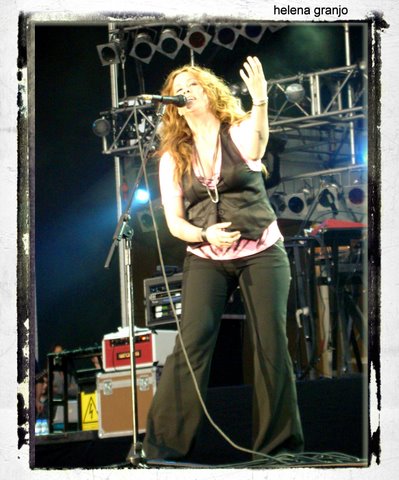 Gostei bastante do pormenor cénico, ou seja a imagem de fundo usada nesta tour, cujos tons lembravam serenidade e magia e onde se podiam ver 2 mãos dadas, uma alusão à filosofia rock in rio "por um mundo melhor" ou simbolo de algo que terminou e foi talvez o fundamento de inspiração dos seus temas?
Alanis encerrou com "Thank you" num apoteótico agradecimento ao público que a quis ver e ouvir….
Alinhamento:
Moratorium, Uninvited, All I Really Want, 8 Easy Steps, Perfect, You Learn, Citizen, Hand In Pocket, Underneath, Moratorium, You Oughta Know, Ironic, Thank You
Alejandro Sanz
A minha opinião que Sanz estava ali um pouco deslocado, ou que deveria ter sido pelo menos antes de Alanis fora partilhada por muitos pelo que me pude aperceber pela reacção geral do público (o qual já tinha uma representação massiva de fãs de Bon Jovi à frente há algumas horas).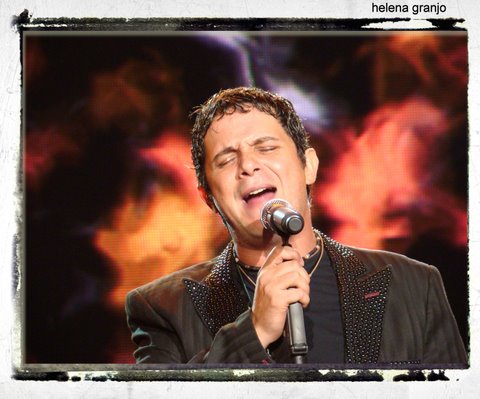 No entanto devo dizer que Sanz deu um bom espectáculo, muito intimista, muito romântico, como é o seu género e contou ainda com a participação de Ivete Sangalo para cantar o seu hit "Corazon Partío". Os dois demonstraram uma imensa cumplicidade, partilhando alguns passos de dança e muitos abraços (mas a Ivete devia ter dado uma hipótese a Sanz e devia ter ido de sabrinas….) foi um momento mágico para muitos espectadores que aplaudiram efusivamente este duo.
Devo salientar a qualidade dos músicos que acompanham Sanz, desde as cantoras, ao guitarrista, à percussão, aos instrumentos de sopro, well done!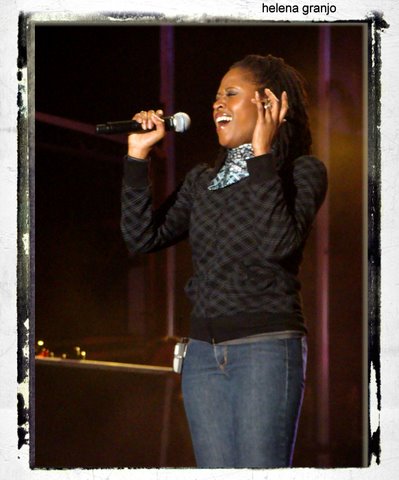 Alinhamento:
El Tren De Los Momentos, Quisiera Ser, La Peleíta, Quando Nadie Me Ve, Corazón Partío, My Soledad y Yo, La Fuerza Del Corazon, Amiga Mia, Y si Fuera Ella, El Alma al Aire, Try to Save, Te Lo Agradezco Pero No, No Es Lo Mismo
Bon Jovi
Os reis da noite foram sem qualquer dúvida Bon Jovi, até eu queria muito ver esta banda que marcou um estilo, décadas e gerações! Claro que havia uma extensa plateia dominada pelo género feminino, todas ansiosas para ver o "Bom" Jovi, que apesar de já ter alguns anitos muitas dizem que é como o "vinho do Porto" ;) E para minha surpresa não encontrei uma plateia com mulheres já pró entradote em frenesim para ver o cantor, havia uma pletora de gerações, das mais teenagers às mais entradotas, todas com as músicas na ponta da língua!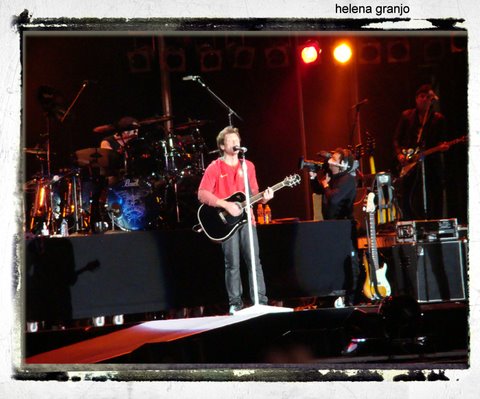 Os Bon Jovi foram dos melhores concertos do RIR, com muita energia, muita alegria, dum positivismo contagiante. Bon Jovi (vocalista) é detentor de uma energia e espíritos incríveis, um verdadeiro frontman, sem parar, sem hesitar, desfiando os êxitos desta super banda perante uma imensa multidão rendida ao poder da sua voz e dos seus encantos. O público acompanhou sempre o cantor, mas ouvir o nanana de "Born to Be My Baby" entoado por cerca de 90 mil pessoas foi de arrepiar!
Richie Sambora também impressionou o público cantando de forma excepcional "I'll Be There For You" e entre as músicas quase como criando uma ligação entre elas ouviram-se versões enérgicas cantadas por Jon de "Mercy" de Duffy, "Start Me Up" dos Rolling Stones e "Shout", pondo todos aos saltos num autêntico alvoroço.
Além de criar a ligação com o público em palco, Jon desceu aos meros mortais e passeando-se pelos corredores segurando uma bandeira portuguesa ia cumprimentando e abraçando o público, que vibrou quando o cantor apareceu envergando uma T-shirt da selecção portuguesa para cantar os últimos temas do espectáculo. A apoteose foi poderosa com "Living on a Prayer", levando o público já cansado de tantas horas e de tantas emoções ao rubro….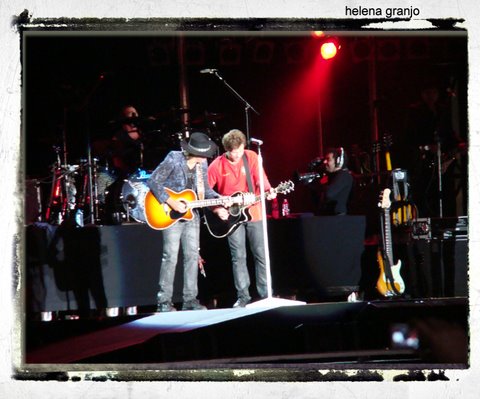 Alinhamento:
Lost Highway, Born to be my Baby, Bad Name, Raise your Hands, Runaway, Sleep When I'm Dead, Whole Lot of Leavin', In these Arms, Always, We got it going on, I's my Life, Faith, I'll Be There For You, Blaze of Glory, Who Says You Can't Go Home, Have a Nice Day, Bad Medicine, Living On A Prayer, Saturday Night, Wanted Dead Or Alive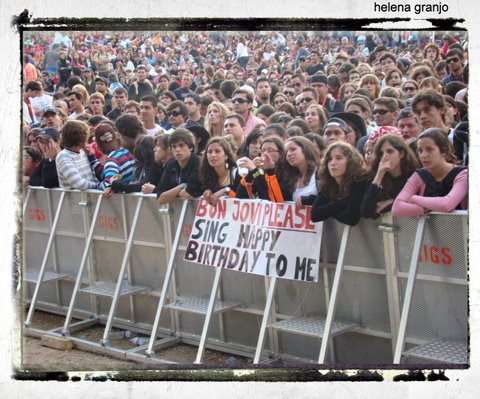 Reportagem e fotos: Helena Granjo